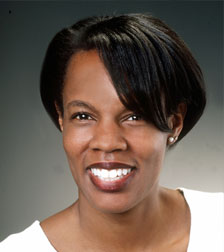 Theresa Moore
President/Founder of T-Time Productions
Theresa Moore is President/Founder of T-Time Productions (www.t-timeproductions.com). T-Time develops and produces unique and diverse programming/content for various media platforms including television, film, online, mobile, tablets and gaming consoles. T-Time is currently publishing/producing a multimedia digital curricula repository focused on providing more diverse and inclusive demographic representations and learning styles in the educational resources/materials used in K-12 schools, classrooms and other educational environments across the country..
T-Time's pilot curriculum, available on iTunes, Amazon and for Chromebooks, is an educational app called "Third and Long" (TAL), based on T-Time's groundbreaking documentary of the same name (www.thirdandlong.tv) . TAL examines the Civil Rights Movement and racial integration in the country through the prism of pro football and is currently being used in schools and districts across the country.
In addition to educational publishing, T-Time provides professional development services for teachers, schools, school districts, nonprofits and other organizations with a focus on culturally relevant, inclusive and equitable pedagogies, practices, policies and curricula as well as issues of equity in students' educational experiences, assessments and opportunities. .
Achievements
Moore is also a Visiting Professor of Diversity & Inclusion at Providence College, teaching in their MBA, Masters of Urban Education, Global Studies, and School of Continuing Education programs and providing pedagogical and curricula training, coaching, and support in the areas of diversity, equity, and inclusion (DEI) for the college's faculty.
Previously, Moore was a corporate executive at ESPN, The Coca-Cola Company, and Chubb Insurance. She is a graduate of Harvard University and serves as Chairperson of the Harvard Board of Overseers Visiting Committee for Athletics. She also serves on the boards of the Harvard Varsity Club, the Rhode Island Foundation, and Hope Health, and is a member of the advisory boards of Athletes' Voices, Seismic Capital Company, and RI PBS Education Committee. Moore has also been named to the transition team for Greg Amore, Rhode Island Secretary of State elect.