State Representative Liz Miranda
Massachusetts 5th Suffolk District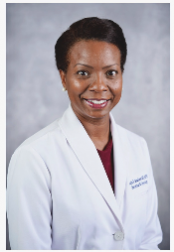 Audra R. Meadows, M.D., MPH, FACOG

Webinar Series - Focus on DHE&I: Diversity, Health Equity, & Inclusion Best Practices eleifend
Disparities in Maternal Health: Connecting Community Advocacy to Clinical Practice
HOUSTON – Feb. 28, 2022
Wednesday, May 18, 2022 | 12-12:45 p.m.
Racial inequities in maternal mortality are staggering, with Black women experiencing mortality rates more than three times that of White women, according to the Centers for Disease Control and Prevention (CDC). In Massachusetts, Black women are twice as likely to die from pregnancy or childbirth-related complications. These inequities, the result of systemic racism in health care, are unacceptable. Massachusetts passed legislation filed by State Representative Liz Miranda (D-Boston) establishing a commission to make policy recommendations aimed at eliminating racial inequities in maternal health.

Join the Massachusetts Medical Society, the Massachusetts Health & Hospital Association, and the American College of Healthcare Executives Massachusetts Chapter to learn more about the commission's recommendations to address racial disparities and promote equity in maternal health outcomes, including how to connect these policies into clinical practice. This event is also a part of the Medical Society's annual John Figgis Jewett Lectureship on maternal health.
State Representative Liz Miranda
Massachusetts 5th Suffolk District
Since her election in 2018, Elizabeth "Liz" Miranda has served as State Representative for the 5th Suffolk District of Roxbury and Dorchester, her lifelong home that helped shape who she is today. Representative Miranda currently serves as the Vice Chair of the Committee on Human Resources and Employee Engagement, and serves on the Joint Committee(s) on Community Development and Small Businesses, Public Safety and Homeland Security, and Veterans and Federal Affairs.
Prior to serving in the Massachusetts Legislature, Rep. Miranda was a non-profit executive, entrepreneur, and community organizer, first working as a youth organizer in the Dudley Triangle, fighting to rebuild her community and protect land. Her professional roles have included serving as the Executive Director for the Hawthorne Youth and Community Center and Director of Youth Opportunity Development at Dudley Street Neighborhood Initiative. In 2021, Rep. Miranda was inducted into the Academy of Women Achievers of YW Boston, and received the Progressive Legislator of the Year Award from Progressive Massachusetts, as well as Emerge Women of the Year, and Boston Magazine's Best Leader in 2021. She has also been names one of Boston's Most Impactful Black Women.
Representative Miranda
is a Wellesley College alumna and a graduate of Boston Public Schools, graduating from the John D O'Bryant School of Mathematics and Science. She is an active member of Delta Sigma Theta Sorority, Inc., Boston Alumnae Chapter and the Wellesley Club of Boston.
Audra R. Meadows, M.D., MPH, FACOG
Dr. Audra Robertson Meadows,
a birth optimizer and equity champion, is an Associate Professor of Obstetrics, Gynecology, and Reproductive Sciences at the University of California at San Diego. For nearly 20 years, she has cared for women before, during, and after pregnancy to ensure positive pregnancy and birth experiences. As an Obstetrician/Gynecologist and maternal health advocate, Dr. Meadows actively investigates strategies to optimize infant and maternal outcomes and to eliminate racial inequities associated with birth. For more than 15 years, she has been passionate about achieving health equity and creating value in clinical practice.
Dr. Meadows completed her medical education at The University of Texas at San Antonio and residency training at Brigham & Women's Hospital. In 2007-08, she was awarded the Commonwealth Fund Fellowship in Health Equity Leadership and a Master of Public Health degree from the Harvard School of Public Health. While practicing in Boston, she served as Medical Director for the BWH Obstetrics Practice. She continues to serve as Co-Director of PNQIN, the Massachusetts perinatal quality improvement collaborative, leading hospital teams in implementation of maternal safety bundles.